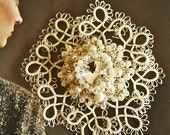 Romantic hand tatted brooch with hand crocheted silver textile lace medallion..
With this piece I hand tatted a design that was handed down for centuries from my Anatolian ancestors. It is tatted with a very fine six ply IVORY colored imported tatting thread.. I centered the tatted work with a medallion that is crocheted with Japanese kimono embroidery pure SILVER coated thread...
The m...
Click Here to Visit My Etsy Shop!