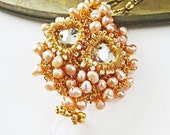 Herena is my hand crocheted gold lace bridal pearl pendant. 2% 24k gold coated japanese kimono embroidery thread embellished with grade aa freshwater light lilac pink pearls and two diamond cut Swarovski elements vintage rhinestones by hand...
I also embellished two gold laced heart shaped around the rhinestones to create the symbol of your love...
I finished the pendant with 14 kt.gol...
Click Here to Visit My Etsy Shop!